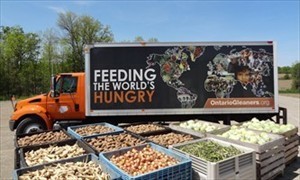 Community Involvement
The Gleaners– The 'Gleaners' is a volunteer driven organization, with over 1100 donated hours each week.  Each day, the volunteers are currently trimming  5000+ pounds of vegetables, providing the ingredients for 30,000 servings of soup.  The trimmed vegetables are diced and then dried in a dehydration oven – later to be combined with other ingredients to constitute the soup mix.  The soup is donated to partner organizations who have the necessary infrastructure for effective distribution, who are committed to sustainability and development, and who combine the gospel message with humanitarian aid. 
Local sport & Charity Support
Burford Agricultural Society – Donation to pay for Canada Day Fireworks Show

Oxford Reformed Christian School

Burford Bulldogs

Burford Youth Soccer Club

Burford Dancers

Burford Optimist Club

Sunshine Foundation of Canada
Burford Mud Run
We brought the Ice, Rotary Club Of Brantford Sunrise brought the participants. We were happy to support the Sunrise Rotary Roughneck Mud Run once again this year. For more information about the Mud Run, please visit their website at www.sunrisemudrun.ca. To view more photos and videos please visit the Mud Run facebook page here. 
Video from Surise Rotary Roughneck Mud Run facebook page. 2017.